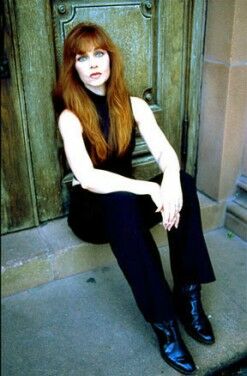 On Tuesday, March 10th KUHF, the public news and arts NPR affiliated station of the University of Houston, welcomed folk singer/songwriter and native Texan, Kimberly M'Carver. I had a generous invitation to view the live broadcast of the featuring program, The Front Row. After her on-air performance I decided to attend the follow-up show at her usual venue, Anderson Fair, in Montrose. I convinced my sister to join me which is no easy task and it didn't ensue without her informing me that she agreed because she had nothing better to do. "Shady" is the word she uses to describe the places I drag her to, but she always ends up enjoying herself. I would have to agree that Anderson Fair was old and looked a little shabby, but it wasn't dilapidated or neglected in any way. In fact, I usually find places like that to be eclectic (my apologies for throwing in a worn-out adjective) with a history to be shared by the proud and long-time regulars. It had an attic and a living room. The living room contained a book case where one could take a book and leave one in its place. Lindsey pulled the 1988 consumer report and thumbed through finding 4 different kinds of baby diapers. It seems like there would be so many more brands in today's reports. New Balance was then and probably still is the leading athletic shoe. A little sign hung above that read "Lending Library." The room was painted with posters of past festivals and musicians, such as Joan Baez. We spoke to Ms. M'Carver's guitarist, Wayne Wilerson, and were told that the place has been around since 1968 and that it is the longest standing live music venue in the state of Texas. It was about to fold twenty years ago but the locals decided to save it and turn it into a non-profit. So, now it opens Thursday to Saturday only at night with grandma in her rocking chair collecting at the door. The cover was $ 10.
After touring the place we sat down front and center as they played a song called "When I Hear Trains." The lyrics allude to her speculating as she watches people boarding and sings, "I wonder whose leaving and who's left behind." It was a five piece band which I didn't expect considering it was simply her and her guitarist and backing vocalist, Eric Corb, present for the radio segment. The stage was small, almost too small for the five of them. Hanging over the black curtain drapery behind the drummer was a Texas flag. There were a few strings of star-shaped Christmas lights thrown around the unfinished ceiling planks like T P'd toilet paper. She has been playing at this venue since 1994 and now comes back about twice a year.
Next they performed "Squeeze Inn," a song I was privileged to hear previously at the broadcast. She told me that the Squeeze Inn was a place in downtown Dallas where her parents used to go dancing on the weekends. She remembers it as a "laid back place with beer, BBQ, and kids running around." Corb took a guitar solo during this number and there was plenty more where that came from for the rest of the show. The drummer sat quietly minding his own business, as drummers do, and for the most part played with brushes which means he was probably using a wooden snare. When he used sticks it was usually for a song with a constant cymbal strike or a tap on the edge of the drum.
They played "This Cold Night" off her second album, Inherited Road. It was fitting to the actual night as we ran in from the cold and the rain when we arrived. She kept saying that she was sick from the weather and that her voice was cutting in and out but I loved her voice and told her that I couldn't imagine it sounding any better. She actually grew up listening to pop and rock. She likes Fleetwood Mac and James Taylor and expressed her desire to see James Taylor in concert. In her early to mid-twenties was when she started listening to artists like Guy Clark, Emmylou Harris, and Dwight Yoakum. People have told her that she sounds like Emmylou and Dolly Parton. Now she likes listening to alternative and rock. She likes The White Stripes and specifically Jack White. I told her that I was surprised because, listening to her original music, I couldn't imagine her enjoying other styles. She replied by saying, "Well, you do what you do best."
They played a new song called "Redemption." Corb was bending with the foot peddle making it sound as though there was a steel guitar in the mix. "Road Inherited" was a story about her grandfather and began with a sweet little humming intro. "Death and Texas" off of her latest album, Cross the Danger Line, presented us with an upbeat jam again starring Eric and his blue Verbier guitar. She wanted to name her album after the song title but had second thoughts and decided to go with the formerly mentioned. She played another new song called "It Never Gets Easy" so I made a point to ask if she had a new album in the works. She has recorded all three of her albums in Nashville and thinks there might be a return trip for a fresh album; however, there are no stone set plans.
She did a little introduction of her band after "It Never Gets Easy." We've already met her guitar players Eric Corb and Wayne Wilkerson and, seeing as I missed her mention the drummer, the only new person to point out is her bass player, Richard Dickie. She has been a songwriter since 1988 and I don't know if these are the guys who have accompanied her all the way. She did say that she has collaborated with Jim Lauderdale, an American songwriter who has composed for other artists, one being Ms. M'Carver's influential, Dwight Yoakum. He has played on her albums and she hopes to join forces with him again.
They announced that Eric had too much of a "Houston weather voice" to do his solo and he thanked us for being sad about it when we all awed. We stuck around for a few more, one a fun little acoustic upstroke, but when Lindsey got restless and started nudging me I could tell that it was time to go. Kimberly must have played almost 30 songs, which is what I like about small unreputable shows. Even if you see a show at the local hot spots like the House of Blues or the Meridian you're lucky to get twenty songs out of it. Sometimes it will be because the artist or group only has one album and they will play their 10 to 12 tracks and use a lot more banter as filler. That's not always the case though as it happens at really big shows that people pay a lot of money to go see. For instance, Tom Petty played 16 songs at his performance at The Woodlands Pavilion last year. So, while she was still playing we scooted out saying goodbye to all the nice folks who ran the place and grandma who made sure to invite us back.
below please find the song titles to part but not all of the setlist
1. When I Hear Trains
2. Squeeze Inn
3. Whistle Down the Wind
4. Show Me the Stars
5. This Cold Night
6. Redemption
7. Road Inherited
8. Death and Texas
9. Santa Fe
10. It Never Gets Easy