I'm a sucker for acoustic ballads. I love the poetry of their words and the story within their poetry. Embellished or straight-forward, they are usually those based-on-a-real-experience narratives.
Robby Overfield has a tell-tale approach accompanied by a voice full of reminiscent emotion. He reminds me of the soulful folk-lyricist Amos Lee.
"Old Rusty Tavern" recounts a typical night at a usual venue. The night, however, becomes memorable because of an unusual visitor. She's not someone whom the regulars and the locals are used to seeing in their dive. But the "smoky old room" with the "dusty dim lights" whiffs of the "ghosts who shared the very same seats before". Chances are, she's not really there.
Audio clip: Adobe Flash Player (version 9 or above) is required to play this audio clip. Download the latest version here. You also need to have JavaScript enabled in your browser.

"Old Rusty Tavern" by Robby Overfield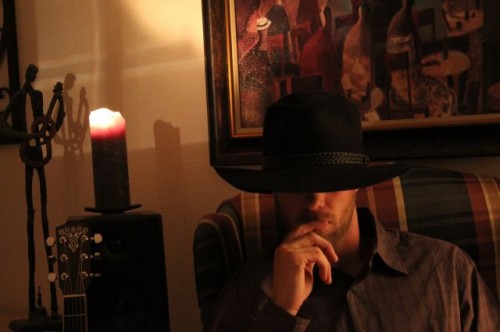 Robby and I share a hometown in Michigan. He found his way to Durango, Colorado as he went looking for breathtaking mountain views and amazing desert canyons. The song "Lucky" illustrates the pleasure he gets from climbing the mountains and exploring the deserts. He describes it as finding all the "secrets of this untouched land".
Audio clip: Adobe Flash Player (version 9 or above) is required to play this audio clip. Download the latest version here. You also need to have JavaScript enabled in your browser.

"Lucky" by Robby Overfield
To stream several more songs by Robby please click the audio player below.
Audio clip: Adobe Flash Player (version 9 or above) is required to play this audio clip. Download the latest version here. You also need to have JavaScript enabled in your browser.

"This House" by Robby Overfield
"If I Don't Make It Out The Trees" by Robby Overfield
"Hard to Find (Live)" by Robby Overfield
"She Ain't Foolin' Me (Live)" by Robby Overfield
Image and mp3s courtesy of Robby Overfield.
For more music, have a listen via SoundCloud. Be sure to share it on Twitter!