On March 29th, the Boston-based band Larcenist released their latest album, We Become The Hunted EP.
The acoustic beauty and seamless string integration of the first song transitions smoothly into the folk-twang that succeeds ahead. The later maintains a precise amount of associated percussion over its accent. Furthermore, there are hints of a gentle, raindrop-like piano ("Morte Lena") and distant, bluegrass-sounding harmony vocals ("Ocean City, Swallowing"). Lyrically, We Become The Hunted EP is insightfull and lightly witty. For instance, in "Proud Life", we are warned of the "barstools swallowing paychecks".
The EP is available for free download on the Larcenist band camp page. It is also available at shows in CD format.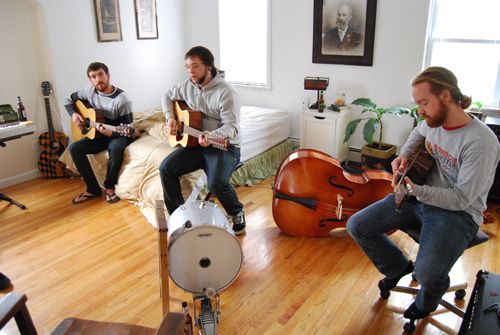 Image courtesy of the Larcenist tumbler page.
Audio clip: Adobe Flash Player (version 9 or above) is required to play this audio clip. Download the latest version here. You also need to have JavaScript enabled in your browser.
mp3s courtesy of Brandon from Larcenist.
Tracklisting:
Leon
Ocean City, Swallowing
Morte Lenta
Proud Life
Last Hours of Being Young