Based in Nashville TN, Ugly Kids Club is the music collaboration of Steve Wilson (producer, songwriter, guitarist) and Aliegh Shields (vocalist, lyricist, guitarist). The pair formed in early 2011 when they discovered their shared love for minimalistic rock duos such as Sleigh Bells, Crystal Castles, and The Kills.
Steve is a Grammy Nominated rock producer and songwriter by day working with bands such as The Juliana Theory and Jonezetta. Aliegh is a bartender who grew up on stage and in her bedroom teaching herself guitar. Their contrasting musical backgrounds helped form their unique sound of crunchy beats, fuzzy guitars, and undertones of synth-pop.
In 2011, UKC released their self-titled debut EP. The duo is back at it again releasing a six-part series with a single and video every month. Each single will be available for download on iTunes. The first in the series is a two-track EP, Rain & Bones.
Audio clip: Adobe Flash Player (version 9 or above) is required to play this audio clip. Download the latest version here. You also need to have JavaScript enabled in your browser.

"Rain" and "Bones" by Ugly Kids Club
mp3 courtesy of Kaylee Metzger,
LaFamos
, Marketing and Publicity Department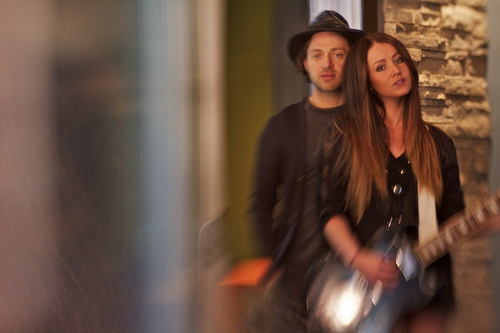 Image courtesy of Ugly Kids Club's flickr photostream