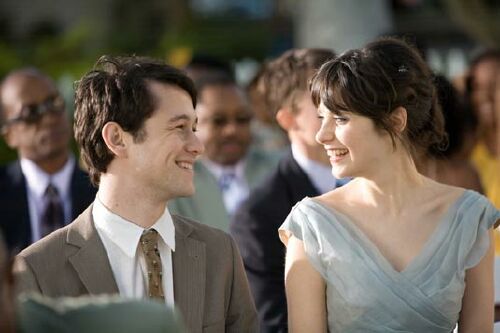 Image courtesy of the Minneapolis/ St. Paul International Film Festival Official Site
"You should know up front, this is not a love story." Are you sure Mr. Webb? Isn't it about the heartbreak of being in love and not being loved back? Isn't it about the difficulty of being loved and not loving back? Furthermore, isn't the overall theme based on the concepts of fate and true love? Although the movie doesn't culminate in the way a traditional love story would, it is most definitely about love. I cannot count the amount of times I recognized a goofy grin painting my face while viewing this movie. One that lasted well past its initiating scene and, every time I realized the expression had not left, I felt a little silly. I always say I'm no hopeless romantic.
Zoey Deschanel plays a character that I would imagine her resembling in real life. Summer is honest and free-spirited. She's someone who knows what she wants out of life and, coincidentally, what she doesn't want. On the other hand, Tom, played by Joseph Gordon-Levitt, lacks confidence and is unsatisfied. He holds a job that he has settled for because he doesn't think that he can hack it doing what he really wants to do. Furthermore, he believes that Summer is the girl of his dreams but that he could never nab a girl like her. Conversations he shares with his buddies provide evidence of the latter belief. The fact that we hear the guys talking about the girl, instead of the more common reverse, is refreshing.
Humor prevails in even the darkest of moments. For instance, while fleeing Summer's apartment following their first confrontation, Tom quickly descends the stairwell and, rather than consuming the scene solely with frustration and agony, director Marc Webb must have thought, "ok, something else needs to happen on these stairs." Thus, the obstacle of two girls blocking his exit. Tom must now react and he does so with an impatient display of politeness. He invites the girls to pass first with an annoyed, "after you," and an exaggerated guiding gesture.
Another thing I love about Marc is that he's not afraid of taking risks and being inconsistent. At times this movie does seem like your typical romantic comedy. Until the rib-tickling song and dance number illustrating Tom's elation at possibly having a chance with Summer. Or, the split scene showing his expectations of how a night in Summer's presence will unfold while, at the same time, revealing the reality of how the evening actually goes down. Again littered with hilarity, I'm sure you can guess which side contains a better chain of events for Tom.