At the Woodlands Pavillion for the second time in one weekend, Linds and I went to see The Fray. The line-up included three piano fronted bands, as Meese and Jack's Mannequin preceded The Fray. Meese's Frontman, Patrick Meese, once part of a band headlining The Fray, has contently found himself invited to the opening position by his old friends. His Denver-based rock/pop group also includes his brother, Nathan Meese, drummer, Benjamin Haley, and guitarist, Mike Ayars. Their debut album called Broadcast is available now. Their set ended as The Fray joined them on stage throwing toilet paper around. It was a little bit of farewell fun since Meese was on their last night of the tour.
In the picture you can see Isaac Slade of The Fray taking a picture of the crowd.
Below are two songs performed by Meese. "Next In Line" is their current single.
1. Next In Line
2. Tell Me It's Over
Jack's Mannequin began their set with the radio friendly, "Mixed Tape." Fueled by energy and contagious lyrics, the group cranked out a 13 song set which left me wondering if The Fray could possibly impress me more. They did a cover of "Watch The Sky" by leader, Andrew McMahon's, former band, Something Corporate. Shortly after, they ended their set with a cover of Tom Petty's, "American Girl."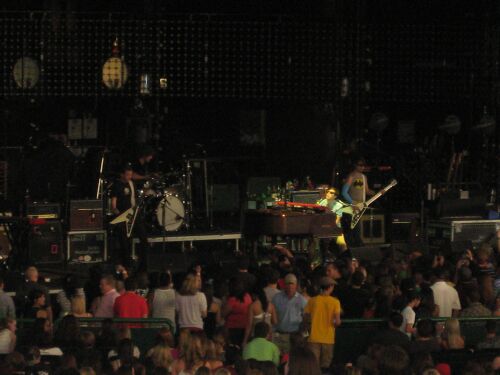 1. Mixed Tape
2. Spinning
3. Holiday From Real
4. Crashin'
5. I'm Ready
6. Bruised
7. La La Lie
8. Swim
9. Dark Blue
10. Bloodshot
11. Watch The Sky (Something Corporate cover)
12. Resolution
13. American Girl (Tom Petty cover)
Singing "Happiness" under a single blue spotlight, Isaac Slade, dramatically ushered in The Fray. The down-tempo version was cut short and "Over My Head (Cable Car)" picked up where it left off. They did five songs before finally introducing the piano with "How To Save A Life." Before beginning, Slade informed us that each of his songs have a person behind them, meaning they are all written about someone. "How To Save A Life" is about a friend he had back when he was 17 who tried but couldn't put his life back together. He described it as a jigsaw puzzle with missing pieces. He realized that he didn't know how to save his friend. He also realized that they had to part ways before he found himself following his friend's downward path. Thus the lyrics, 'he goes left and you go right.'
"You Found Me" concluded the main show, but they continued with probably the longest encore I have ever witnessed. They started it with "Look After You," which they wrapped around a little "Man In The Mirror" tribute. Then strangely, in my opinion, they performed an acoustic version of J.T and T.I's "Dead And Gone." During this cover, Meese came out dancing around in their underwear. I was a little turned off at this point but they recaptured my attention with, "All At Once." Lastly, they reprised "Happiness" elongating the "Hey-ay-e-yay-e-yay" lyrics with atmospheric accompaniment. Slade said, 'get your phones out,' as nobody waves lighters anymore, instead we use the backlight of our mobile phones. I liked the fact that they started and ended with the same song even though, initially, I was upset because I hadn't yet heard my favorite song, "Enough For Now."
At the end of the show Slade preached that wherever we are in life we can't give up until we get to where we want to be. Then he proceeded to tell us that he wishes he could have coffee with each of us, as he talks to us for an hour and a half on stage but never gets to hear our story. As we were leaving, Linds told me that she didn't think that she had ever been to such an amazing concert before in her life.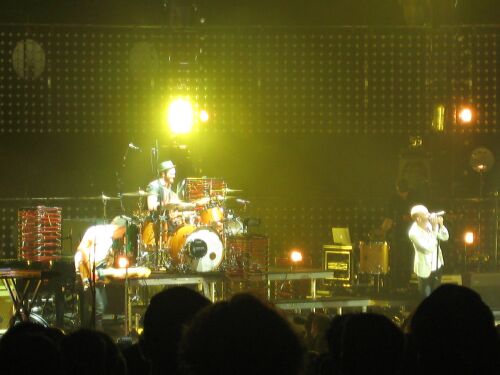 1. Happiness
2. Over My Head (Cable Car)
3. Absolute
4. She Is
5. Say When
6. How To Save A Life
7. Vienna
8. Syndicate
9. Little House
10. We Build Then We Break
11. Where The Story Ends
12. Never Say Never
13. You Found Me
Encore
1. Look After You (Michael Jackson "Man In The Mirror" covered within)
2. Dead And Gone (J.T. T.I. acoustic cover)
3. All At Once
4. Happiness