Yes, I was late to a friend's birthday party because I went to a Rod Stewart concert! I had entered a contest through the Houston Chronicle via Twitter, just to see if I got lucky. I won four covered seats at the Cynthia Woods Mitchell Pavilion in The Woodlands, TX. I called my dad and asked if he liked Rod Stewart and his responses were, "Well, he's getting kinda old," "he used to dance quite a bit, but he's probably too old now," and "usually when they get older they don't perform their songs from top to bottom. They'll shorten 'em because they get winded." We went anyway.
We were pleasantly surprised, to say the least. He put on a great show. The man still gets good use out of his dancing shoes and he played for a good hour and a half. While I didn't record the full setlist, I have provided an incomplete and out of order listing of what I remember.
The blue suit jacket he appeared in was just one of three ensembles. His last quick wardrobe change was jeans and a cowboy hat, seeing as he was in Texas.
He did a Sam Cooke cover of "Twistin' The Night Away" and credited the late Mr. Cooke as one of his influences back when he was a kid. A cover of Tina Turner's "Proud Mary" by a back-up singer/dancer nicely filled what I assume was a much needed back stage break.
Homage was paid to Michael Jackson, as footage of him with the Jackson 5 in their 70's bell bottoms and tasseled vests flashed across the JumboTron.
During "Hot Legs" he kicked soccer balls into the crowd, something he's been known to do at live shows, as he's a fan of Scottish national football. Following his "Maggie May" encore, he made his way to the curtain and literally leapt off the stage and out of sight.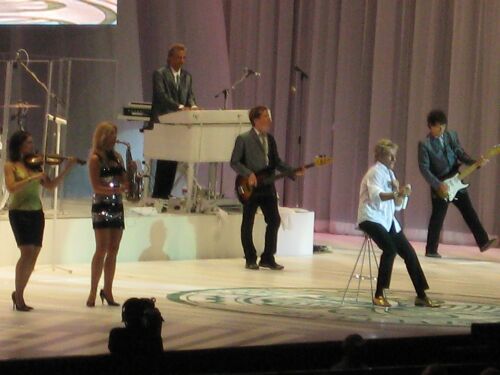 1. Some Guys Have All the Luck
2. Forever Young
3. The First Cut Is the Deepest
4. Twistin' The Night Away (Sam Cooke cover)
5. Downtown Train
6. You're in My Heart
7. Proud Mary (Tina Turner cover)
8. Have I Told You Lately
9. Hot Legs
Encore
1. Maggie May