Holly Audrey Williams is an American singer-songwriter. She is the granddaughter of Hank Williams, Sr., the daughter of Hank Williams, Jr. and half-sister of country singer Hank Williams III.
Holly Williams says she just writes songs. But as the owner of a Nashville boutique (H. Audrey) and Nashville General Store (White's Mercantile) as well, this girl stays pretty busy. She still found time in 2013 to record her third album The Highway.
The Highway is her first self-released offering on her and her multi-instrumentalist husband Chris Coleman's label, Georgiana Records. Williams' spent nine months recording with a wonderful supporting cast including co-producer Charlie Peacock on keyboards, bassist Glenn Worff, and Dan Dugmore playing some beautiful pedal steel. A few friends also came to the studio to lend harmonies including Dierks Bentley, Jakob Dylan, Jackson Browne and Gwyneth Paltrow.
[audio:Drinkin'.mp3|titles=Drinkin' (Live Acoustic)|artists=Holly Williams]
"Drinkin'" Live Acoustic Version by Holly Williams
{"Southern Living" shoot at the Ryman Auditorium}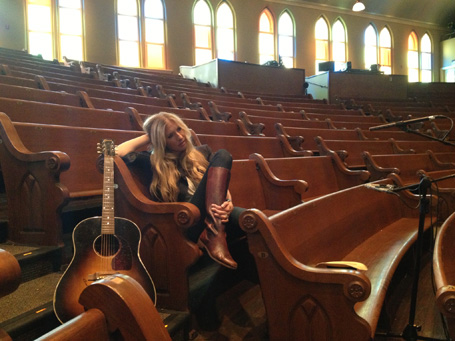 {White's Mercantile opened the first week of December, stocked with Williams' favorite things she found on all her travels}