Counting Crows' released Underwater Sunshine (Or What We Did on Our Summer Vacation) via Collective Sounds on April 10, 2012. The album features a cover of the song "Like Teenage Gravity" by Kasey Anderson & The Honkies from his 2010 release Nowhere Nights via Red River Records.
Of the song, Counting Crows' front man Adam Duritz wrote in the album's liner notes:
"Ryan Spaulding raved about Kasey Anderson so I bought all the records and I really dug them. I really found out how right Ryan was a few months later when Kasey came down to Austin last year to play Smoke & Sand, Ryan's Smashing Life (RSLblog.com) & Tyrannosaurus Record's 2011 SxSW showcase. His big lonely rock songs are addictive but he crushed at Smoke & Sand with an acoustic set. Maybe that's why I chose 'Like Teenage Gravity' to cover over songs like 'I Was A Photograph' or 'Exit Ghost.' I don't know. I love his recording. It has a sparse almost hymn-like simplicity." ~ excerpt from In Music We Trust.
Kasey Anderson & The Honkies are currently in the studio finishing up their forthcoming full-length, Let the Bloody Moon Rise, which will include a re-recording of "Like Teenage Gravity" – changing Anderson's original into a full-on rock song. Have a listen below to 3 versions of the song: the original, the rough mix of the re-recording, and the Counting Crows' cover.
[audio:Like Teenage Gravity (Original).mp3, Like Teenage Gravity (Rough Mix).mp3, Like Teenage Gravity (Cover).mp3|titles=Like Teenage Gravity (Original), Like Teenage Gravity (Rough Mix), Like Teenage Gravity (Cover)|artists=Kasey Anderson & The Honkies, Kasey Anderson & The Honkies, Counting Crows]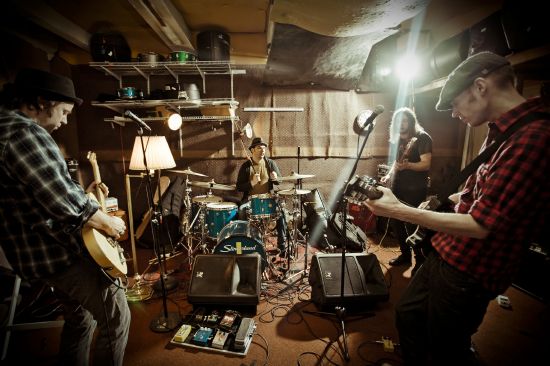 Image and mp3s courtesy of Alex Steininger of In Music We Trust