Last week I posted a song and a picture along with a heads up that a Lenka concert review would be coming soon. Well, today I have to disclose the bad news. I missed Lenka. I could not, for the life of me, locate the charger to the GPS that my dad so thoughtfully gave me for Christmas so I decided that I had been to the House of Blues enough times and that I could find it on my own. Therefore, rather than going back for a Google map, I simply headed toward downtown. I should have known not to take that risk.
All I could do once I was lost was drive around until I saw the neon blue sign and make that wide right hand turn when, out of the corner of my eye, I noticed that I was about to pass it. By the time I got there I suspected that she had probably already finished. When I arrived I had to purchase my ticket and I stood behind a guy talking about The Ting Tings concert that was held there a few months ago. I wanted to say, "Hey man, I was at that show" but I really didn't need to butt in.
I asked the girl at the entrance beer tub if I did, in fact, miss Lenka's performance and she replied with a, "Well, if that's who that was then yes." I found myself smirking because, not only did she give me a funny answer, but she also said it in a tone that reminded me of Linda from the show Becker. In case you're not familiar, Linda played Ted Danson's air-headed nurses aid.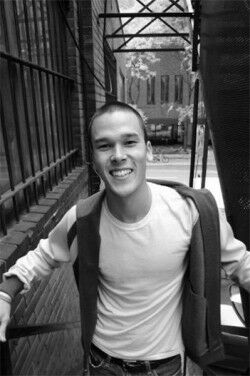 So, I shopped the merchandise for a while as they played The Beatles "The News" and "Sgt. Pepper's Lonely Hearts Club Band" between sets. Justin Nozuka appeared in a simple white wife-beater and began with "Down in a Cold Dirty Well" from his debut album, Holly. While listening to this song I figured he may have been influenced by Bill Wither's as it reminded me of Bill's "Ain't No Sunshine." I kid you not, two songs later he was doing an "Ain't No Sunshine" cover. I freakin' hear this song covered way too much! It is kind of fun to hear it done in different ways though. There is a description I like to use from time to time that I call 'vocal gymnastics' and it definitely applies to Justin and the way he works his nice falsetto into his rapid and numerous changing of intervals.
The energy was there, not just from Justin but from Missy Higgins as well. It was the first night of their tour together and I presume that is why it was so great. "Golden Train" introduced the keyboard and Mark Pellizzer, Justin's band mate. Acknowledgment for the bass goes to Anthony Lavdanski and the Drums to Alex Tanas. Anthony and Alex also supply backing vocals. The guys have been together for two years.
They played a song called "Be Back Soon" and, unfamiliar as I was to the album, I initially heard another cover. Beginning merely with Justin's acoustic guitar the first three chords were that of Deep Purple's "Smoke on the Water." From my guitar attempting days I remember those in Tablature as open-3-6 on the A and D strings. You can poke fun if you want to but beginners have to start somewhere.
He played his single, "After Tonight," a song that tells the simple story of a man asking his girlfriend to come away with him promising that, if she does, she will no longer have to dream of heaven. Next, he introduced his song "Save Him" as a song written from the perspective of two men living in an apartment building and witnessing an abusive and fatal relationship going on close by. I usually shy away from this issue because I feel that several cases include an element of attention-begging by those who cry wolf, so to speak. Therefore, I was nervous when the song started but, after hearing it in its entirety, I can assure you that this song depicts the real thing. Both parties struggle and both parties destruct. At the end of the long haul she dies and he dies; the victim and the abuser; a homicide and a suicide. The song was performed by Justin and Mark, his guitarist, with so much passion that I have to wonder if the two of them were the witnesses. Their shared hand shake following the song only made my assumption stronger.
He soloed on a song called "Oh Momma" in which he asks his mom to hold him closer and tells her how much he loves her and how he couldn't live without her. What a mamma's boy! Lastly, they played "Criminal" and with a little wave and a "have a good night" that was it.
1. Down in a Cold Dirty Well
2. Don't Listen To a Word You've Heard
3. Golden Train
4. Ain't No Sunshine (Bill Wither's cover)
5. Be Back Soon
6. Mr. Therapy Man
7. Supposed To Grow Old
8. After Tonight
9. I'm In Peace
10. Save Him
11. Oh Momma
12. Criminal
With the next intermission came the return of The Beatles songs. During the assembly of Missy's equipment we heard the following:
All You Need Is Love
Hey Jude
Revolution
Strawberry Fields
Listening to all these songs triggered the thought that I may never get my DVD of "Across the Universe" back. The 1960's story built around The Beatles tunes and very creatively directed by Julie Taymor. I lent it to a friend months ago and you know how that goes.
Then they switched to the Rolling Stones:
You Can't Always Get What You Want
(I Can't Get No) Satisfaction
Sympathy for the Devil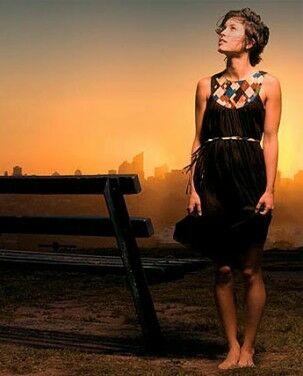 The Australian singer-songwriter, in her high-wasted pencil skirt and cap-sleeved blouse, at last materialized and began with "Don't Ever" from her debut album, The Sound of White, from 2004. Unaided by her band mates, she incorporated a little whistling to accompany her voice and her guitar. Then she transitioned to the piano for a nice hand over hand execution of "All for Believing."
Unlike Justin, she wasn't shy about addressing the crowd. She had fun saying how much she was enjoying "Heee-you-ston" as she had the pleasure of spending a few days in town prior to the tour kick-off. They had been to The Menil Collection, an art gallery in the Montrose area, earlier that day and their cab driver was not the first to ask them what kind of music they played. So, they came up with the definitive answer of 'coffee house.'
During her song "Angela" she played a melodica. The melodica is a fascinating instrument, strangely reminiscent of a harmonica, but comprised of a hand held keyboard and a mouthpiece. Blowing into the mouthpiece produces the sound facilitated by the keys that are plucked. She returned to the piano for "Warm Whispers" and got so entrenched in her own performance that she was standing out of her piano stool. She presented the next two songs solely, the later of which was "Forgive Me." Her forerunning explanation of this song was that she wrote it like an apology letter by an unfaithful man to his family. She is often captivated by the possibility of probing into other individual's 'mind-stances' and, with this one, she attempted to be the man who was truly sorry.
"Secret" had a bit of a funk-folk sound to it and was implemented with a little Steel guitar. As if we needed more instrumental variety, the banjo launched the next song, "Going North." I haven't mentioned her sophomore album so I would like to inform you now that this song is off of her second studio album, On a Clear Night, released in 2007.
She did a cover of a Patty Griffith song called "Moses." It's a song that she has loved ever since she was a little girl and she wanted to perform a "coffee house rocked up" version of it for us. Missy is distinct from her peers in that her accent is apparent when she sings. With this song she especially pronounced "Roses" and "Moses" the way an Aussie would. With an R-sound rounding out the O's, if you know what I mean.
Nearing the end of her set she felt it was necessary to include a little crowd interaction with her song "Peachy." She politely asked for a little clap along and joked that "everyone loves audience participation, right?" With that statement, she and her band began the clap. Her band consists of Ben on guitar, David on bass, and Felix on drums. I didn't catch their last names. She ended with one of her more well-known singles, "Steer," a song about discovering the freedom inside of you.
Before I forget, I wanted to make a point to mention that Missy is an adorable and charming young lady. I met another frequent concert-goer while at the show that caught me taking notes and was concerned. He said that he had seen Justin Nozuka before without an electric guitarist and he thought that the rawness of it was much better. That's what started our conversation. I told Mr. so and so not to worry because I rarely say bad things. I knew I wasn't going to be able to recall his name. I want to say David? Oh well. Whoever you are, you have my website. Feel free to make comments. I'm sure you're happy to find that my stories are really just surveillances of the evening's episodes rather than critiques.
1. Don't Ever
2. All for Believing
3. Wrong Girl
4. Angela
5. Ten Days
6. 100 Round the Bends
7. Warm Whispers
8. Nightminds
9. Forgive Me
10. Secret
11. Going North
12. Moses (Patty Griffith cover)
13. Peachy
14. This Is How It Goes
15. Where I Stood
16. Steer