While the Dandy's have a new 2009 album, The Dandy Warhols Are Sound, their setlist was rather extensive, therefore, allowing a wide range of tunes from several of their albums, namely; Thirteen Tales From Urban Bohemia (2009), Earth To The Dandy Warhols (2008), Odditorium or Warlords of Mars (2005), and Welcome To The Monkey House (2003). Rumors of them playing until midnight circulated, as they are known for their long shows.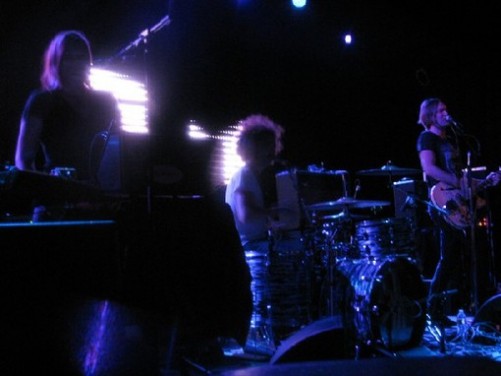 Picture courtesy of HoustonPress—a Houston music blog, which also contains a great aftermath write-up.
1. In My Room
2. Shakin'
3. All The Money or the Simple Life Honey
4. The Legend of the Last of the Outlaw Truckers AKA The Ballad of Sherriff Shorty
5. Talk Radio
6. I Love You
7. The New Country
8. (You Come In) Burned
9. Everyday Should Be A Holiday
10. The Last High
11. And Then I Dreamt of Yes
12. Not if You Were the Last Junkie on Earth
13. Bohemian Like You
14. Godless
15. We Used To Be Friends
16. Horse Pills
17. Get Off
18. Wasp in the Lotus
19. Boys Better
20. Lou Weed
21. Country Leaver
While rummaging through internet bulletins, I came across an interesting article from Spinner regarding frontman Courtney Taylor-Taylor's lyrics: "When Michael Jackson dies/ We're covering Blackbird"—something he didn't plan on having to do so soon. The phrase from the title track of 2003's Welcome to the Monkey House was in reference to Michael Jackson buying Paul McCartney's songs. Aggravated by the pop star, Taylor-Taylor vowed to cover a Beatle's song when MJ could no longer make money from it. This cover, and their new album is available here.
Spindrift, an experimental rock band originating in Delaware, opened for the Dandy's. They've contributed to two soundtracks: Quentin Tarantino's Hell Ride and a western celebrated indie film named after, and inspired by, their 2002 album, The Legend of God's Gun. Some songs started off dream-pop while others began with a slow southern beat, but all pretty much ended with hard rock vocals and electric guitar solos.