VERSATILE CHICAGO BASED SINGER-SONGWRITER AND MULTI-INSTRUMENTALIST FUSES MODERN AND PROGRESSIVE ROCK SENSIBILITIES WITH OLD SCHOOL SOCIAL CONSCIOUSNESS, MAKING THE WORLD MORE 'LUCID' FOR EVERYONE.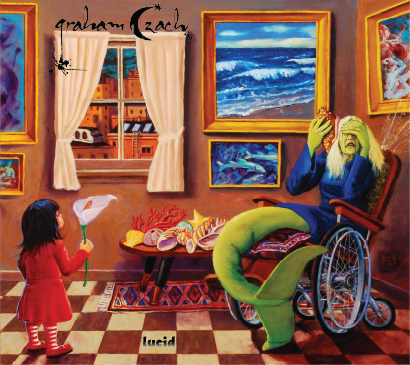 The Chicago Music Award Winner's Solo Debut Features Drummer Kris Myers (Umphrey's McGee), Keyboardist Matt Nelson (Lupe Fiasco, Matthew Santos) and Guitarist Chris Siebold (Howard Levy, Kick The Cat)—Plus Brilliant Artwork By Legendary Album Artist Jeff Jordan (The Mars Volta). ~ Album art and artist introduction provided by Chrissy Sutphin of LUCK Media & Marketing, Inc.
After digging a little deeper into Czach's debut, Lucid, I must give praise to his extensive use of classical instrumentation and his fervent voicing of pain, enlightenment, controversy, and benevolent behavior. His range of style is also worth noting. For example, "True Love" is gentle, orchestral, and wraithlike while "Nightmare" brings hard guitar and percussion into the mix. "Gather Round" pays tribute to John Lennon and adopts the familiar chorus of "Across The Universe." What I love about this song is the choir that joins him about half way through.
[audio:Gather Round.mp3]
"Gather Round" by Graham Czach